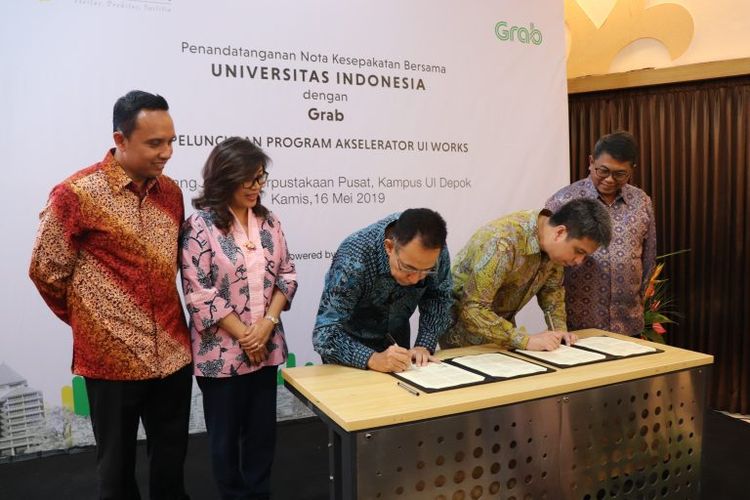 Universitas Indonesia ( UI) dan Grab melakukan kerjasama guna mendukung pengajaran, penelitian dan pengabdian masyarakat di UI. Penandatanganan kerja sama dilakukan Rektor UI Prof. Muhammad Anis dan President of Grab Indonesia Ridzki Kramadibrata, di Ruang Apung UI, Kampus Depok (16/5/2019).
"Diharapkan, kolaborasi yang sarat dengan teknologi ini dapat menstimulasi semangat berinovasi dan berwirausaha bagi sivitas akademika UI untuk menghasilkan startup company berkelas demi kemajuan perekonomian bangsa Indonesia ketingkat berikutnya," ujar Prof. Anis seperti dilansir dari laman UI.
Pengembangan startup
Melalui kerja sama ini Grab melalui program "Grab Ventures Velocity" (GVV) akan menjadi mitra strategis program pengembangan startup binaan UI, khususnya yang bergerak di bidang teknologi, medis, dan sosial.
Sejumlah startup potensial hasil inkubasi sivitas akademika UI akan dibina melalui program bernama Program Akselerator "UI Works" dengan menggandeng Code Margonda sebagai partner penyelenggara.
Program ini diperuntukkan bagi sivitas akademika UI serta anak muda lainnya di luar UI yang memiliki usaha rintisan. Untuk dapat mengikuti Program Akselerator "UI Works", usaha rintisan setidaknya harus sudah memiliki prototipe atau Beta version dari produknya.
3 tahap pengembangan
Program Akselerator "UI Works" nantinya terbagi menjadi 3 tahapan, yaitu Pra-Akselerator, Akselerator, dan Demo Day.
Pada Tahap Pra-Akselerator, calon peserta akan mengikuti serangkaian seleksi hingga pada akhirnya akan terpilih startup unggulan. Selanjutnya, Tahap Akselerator, peserta akan mengikuti program intensif kurang lebih 4 bulan mengembangkan startup masing-masing dengan fokus siap komersialisasi.
Pada tahap ini, pelaku usaha yang telah berhasil dalam usaha rintisan dan bisnis wirausaha akan diundang melatih peserta.
Puncak dari Program Akselerator ialah Tahap Demo Day. Pada tahap ini, para binaan akan dipertemukan dengan para investor yang siap membina dan mengembangkan bisnisnya.
Mendukung technopreneurship  
Sebagai mitra strategis Program Akselerator "UI Works", Grab Ventures Velocity (GVV) akan berpartisipasi dalam Tahap Akselerator sebagai mentor atau pembicara tamu. GVV juga akan mengevaluasi startup unggulan yang lolos Tahap Demo Day untuk mendapatkan kesempatan dibina lebih lanjut dalam program GVV.
Prof. Muhammad Anis mengungkapkan saat ini UI mendukung mahasiswa menciptakan startup. "Sehingga kelak lulusan UI dapat menciptakan lapangan pekerjaan sendiri," katanya.
President of Grab Indonesia Ridzki Kramadibrata menyampaikan kerja sama dengan UI sejalan dengan komitmen Grab. "Kami mendukung penuh penciptaan lapangan pekerjaan, peningkatan kapasitas talenta lokal di bidang teknologi informasi, technopreneurship dan inovasi teknologi," papar Ridzki.
Selain pembinaan startup, kerja sama UI dan Grab ini juga mencakup program Engineering Talent Future Leader, dimana mahasiswa UI jurusan teknik tingkat akhir dapat mengikuti seleksi dan berkesempatan magang di kantor Grab Indonesia atau Singapura.
Source: https://edukasi.kompas.com/read/2019/05/18/21345981/kerja-sama-ui-dan-grab-melahirkan-technopreneurship-kampus.
https://www.bimbel-imsmart.com/wp-content/uploads/2019/05/4184150800.jpg
500
750
admin imsmart
https://www.bimbel-imsmart.com/wp-content/uploads/2015/09/logoimsmart.png
admin imsmart
2019-05-20 13:19:05
2019-05-20 13:19:05
Kerja Sama UI dan Grab Melahirkan "Technopreneurship"